About Us
This site is dedicated to the preaching and teaching of the Authorized Version of the Bible (the "AV1611"), often called the King James Bible or the King James Version. Kyle Stephens is our main speaker; he is the pastor of Blessed Hope Baptist Church in Coon Rapids, Minnesota.
In addition to Kyle, we also have some "guest speakers." We hope that you will find their Bible-believing messages edifying as well.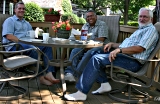 This site is maintained by Vlad and Greg Kedrovsky (that's Vlad on the right; Greg is on the left). If you have any questions or comments, you can reach us at the following addresses (you'll need to replace the words in [ALL CAPS] with the character indicated… removing the brackets, of course).
Vlad can be reached at this e-mail address: vlad[AT]av1611audio[DOT]com
Greg's address is: greg[AT]av1611audio[DOT]com
Sorry that we have to do e-mail that way, but spammers use bots to harvest addresses from web sites, and we're already receiving between 2,000 and 3,000 junk mail messages a week.